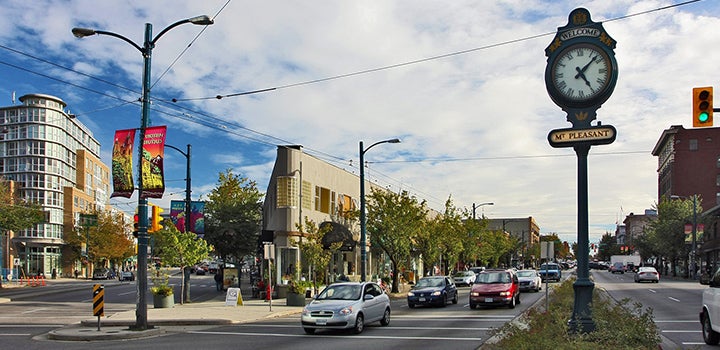 Mount Pleasant and East Van each have distinct characteristics that make both desirable neighbourhoods in the Vancouver area – depending on the buyer's style, feature preferences and budget.
When you think of East Van, you might picture trendy

Commercial Drive

and a vibe that is akin to New York's Brooklyn – a stylish postal code that is dominated by millennials and young families, stellar food and sublimely unique shopping experiences. This popular location is primarily occupied by a younger demographic due to its lower housing cost. But over the years, it has become one of the hippest and most sought-after neighbourhoods in Vancouver.
East Van boasts bike-friendly transit and is a coffee connoisseur's dream, with Main Street claiming some of the finest roasters in Canada. Foodies are right at home in East Van, whether it be at Little Italy's La Grotta Del Formaggio, vegetarian-famed Bandidas Taqueria, or sweet tooth crown jewel Earnest Ice Cream – there is truly no other area in Vancouver that is so tightly packed with as many eclectic and delicious dining options.
Not only is East Van a great place to find incredible eats, it is also home to some phenomenal boutique shopping. When browsing the shopping district of East Van, you are bound to find one-of-a-kind artisanal pieces in thriving small businesses and farmers' markets. These chic finds extend right through to high-end modern or bohemian furniture and beyond – there is truly something for everyone. As East Van tends to offer a lower price point than the rest of the city, it remains an appealing place to put down roots.
On the other hand, Mount Pleasant affords a holistic style and atmosphere, with residential streets that make the big city feel a little smaller, a little quieter, and much more intimate. Hosting treelined boulevards with homes perfect for families, Mount Pleasant is within close proximity to some of Vancouver's premium schools such as Mount Pleasant Elementary, David Livingstone Elementary and Sir Charles Tupper Secondary. It is considered an optimal - and safe - location to raise young children and is centrally situated for family activities like visiting Science World or Granville Island's Kids Market.
Particularly attractive to outdoor adventurists,
Mount Pleasant
is home to some top-tier sports shops – perfectly suited to those sun-seekers who are gearing up for summer activities, browsing kayaks or upgrading that camping equipment.
Holding a higher price point than East Van, Mount Pleasant is still considered to be affordable in contrast to other family-oriented neighbourhoods in Vancouver like
Point Grey
and
Kits.
There are many reasons to contemplate settling in Mount Pleasant or East Van, but it all comes down to individual needs as well as affordability. As always, be sure to rely on real estate professionals who have experience and are highly familiar with both neighbourhoods.
If you have questions or are interested in learning more about Mount Pleasant or East Van,
don't hesitate to reach out.