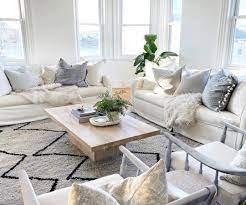 Have you been in a store lately?  The shelves are starting to fill up with all things fall.  Outdoor wreaths, warm cozy throws, and velvet pumpkins signal that Fall is on its way.  Changing out our homes for every season with new colours and trends can really hit you in the pocket book, and really… who has the space to store 4 seasons worth of home décor items?  
The good news is, you don't have to swap out all of your beloved Spring and Summer pillows with the shades of Fall, you can simply incorporate a few new things that blend well with your existing décor to rejuvenate your space and make it feel like a beautifully curated home. 
 1.
Texture and warm earth tones are a must have for Fall 2022.  And the good news is, earth tones come in a variety of shades.  From the neutral tones of cinnamon or oatmeal, to the rich shades of olive green, muted tones can blend seamlessly with almost any colour palette.  Adding a chunky knit, or richly textured fabric can achieve the same effect of warmth.  Think about pillows, throws, area rugs, wicker or pottery as ways to infuse earth tones into your space. 
2.
Lighter richer wood tones are making a comeback.  This is a nod to the environment and the natural elements that surround us.  Maybe changing out cupboards or larger pieces of furniture is not in the budget, but adding accessories could be a great way to incorporate this trend. A lamp, a wooden bowl, a plant stand, cutting boards or maybe a collection of antique rolling pins displayed on a wall.  If you are an avid weekend warrior and if ceiling height allows, some faux wood beams in a kitchen or dining room might do the trick. Just a touch of a naturally toned wood can tap into the trend. 
3.
Woven elements are key to adding texture and give you big bang for your buck.  Earthenware planters, fibre trays, light fixtures, sisal floor mats all are inexpensive ways to add texture naturally.
4.
Mixing vintage pieces with modern is hot for Fall and creates an interesting dynamic of old meets new.  It also has the extra added bonus of repurposing items that may otherwise be cast aside.  Reuse, renew and recycle.
5.
The buzzwords for Fall are "Coastal Grandmother", it's everywhere.  This style is all things relaxed and comfortable.  Think the neutral tones of sand and sea, linen, wicker, seashells, driftwood, washed denim.  
It's an easy breezy lifestyle. If your walls need a little refresh, painting them in lighter yet warm tones is another way to incorporate this trend that experts say is not going anywhere!At the end of the day trends do tend to come and go, so it is always a good idea to be intentional with your purchases and only buy what brings you joy.  You can never go wrong if your space truly reflects who you and your family are and how you live.