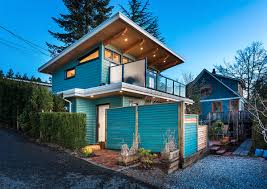 A. Separate Entrance ideally side entrance
Firstly, is you lot eligible for Infill or laneway home ? 
Here is the criteria ; Lot size must be a minimum of 32.8 feet wide and must have have access to an open lane. Permission to build on a smaller lot may be granted by the Board of Variance (604-873-7611)

33 foot wide lot allows you to have a maximum of 1 bdrm & 500sq.ft laneway house
50 foot wide lot allows a max of 2 bdrms and 750 sq.ft laneway house
There are many other criteria that needs to be looked into, costs? Lot dimension? Age of house? Where your house is located on the property? Corner lot?
B. Parking covered and visitor parking option. 
Based on your lot size a larger laneway home maybe allowed therefore a cover parking spot would be required in addition to 2nd spot. If property is located in residential neighbourhood  FREE visitor parking maybe on the street. If not able to build a coach house with covered garage street parking with resident permit would be ideal option depending on property location. Most coach homes are located where public transit or biking is easy access.
C.  Updated bathroom, kitchen, laundry.
Goes without saying that most people like new shiny things in small packages .. like laneway homes.  Conveniences of laundry, 2 x bathrooms and nice kitchen is ideal to have long term tenants . 
D. Ceiling height 
Not be less than 6'-7" (2m) with no obstructions below this height along the path of exit travel from any portion of the suite  

 A designer/architect could help in the approval process depending on many circumstances.
E. Fire separation, egress windows, sound proofing between units.
This is advance technology and most suitable for newly build home and some retrofits for a building that does not have sprinklers system or smoke alarms.   Fire Separations in dwelling units, exits, and common rooms (such as laundry, storage or furnace rooms) shall be separated from adjacent floor areas by fire separations  having: a fire resistance rating of 45 minutes, or having a fire resistance rating of 30 minutes, if used in conjunction with photoelectric smoke alarms.
F.  Permits
Permits for any plumbing, electrical or gas work in a single family dwelling with a suite are to be obtained by certified contractors, as homeowner permits are not allowable. Permits are required for any work, which may have been done without a permit. One electrical panel serving both a secondary suite and the main dwelling is permitted and may be located anywhere within the dwelling.